ANALYZING THE LINGUISTIC FEATURES OF ENGLISH TEACHER TALK AT SMP NEGERI 1 BATAUGA
Keywords:
Ciri Linguistik, Percakapan Guru
Abstract
Masalah utama dalam penelitian ini adalah apa ciri linguistik dari teacher talk guru bahasa Inggris di SMP Negeri 1 Batauga? Penelitian ini bertujuanuntuk mendapatkan gambaran tentang teacher talk guru bahasa Inggris dan untuk mendeskripsikan jenis teacher talk guru dalam interaksi antara guru dan siswa di kelas. Dalam penelitian ini, peneliti mengunakan desain deskriptif kualitatif yang menggambarkan dan menganalisis kondisi subjek penelitian yang sebenarnya berdasarkan data yang diperoleh. Subjek penelitian adalah guru bahasa Inggris SMP Negeri 1 Batauga kelas VIII. Data penelitian ini dikumpulkan melalui observasi, dokumen dan wawancara. Data analisis melalui tiga tahapan yang diadopsi dari Miles and Huberman; reduksi data, penyajian data, dan penarikan kesimpulan. Berdasarkan analisis data, dapat disimpulkan bahwa ciri linguistic guru SMP Negeri 1 Batauga di tunjukkan dengan karakteristik linguistic yang sering digunakan oleh guru. Sebagian besar guru menggunakan secara umum dan tag question dan juga lebih banyak menggunakan pengulangan, pertanyaan umum, dan menggunakan penyesuaian linguistik untuk pembicaraan yang dapat dipahami siswa seperti parafrasa dan pengulangan.
Downloads
Download data is not yet available.
References
I. De Noni, G. De Bernardi, and L. Pellegrino, "Detection of commondashwheat (Triticum aestivum) flour in Durum-wheat (Triticum durum) semolina by reverse-phase high-performance liquid chromatography (RP-HPLC) of specific albumins," Food Chem., vol. 51, no. 3, pp. 325–329, 1994.
A. Nafrina, "The Teacher and Learner Talk in Classroom Interaction in SMPN 2 Kendal," Semarang English Dep. Lang. Art Fac. Semarang State Univ., pp. 1–21, 2007.
R. Ellis and R. R. Ellis, The study of second language acquisition. Oxford University, 1994.
W. G. Ellis and K. Kantor, "The web of meaning: Essays on writing, teaching, learning, and thinking." JSTOR, 1984.
V. J. Cook, Second language learning and language teaching. 外语教学与研究出版社, 2000.
H. Takahashi-Breines, "The role of teacher-talk in a dual language immersion third grade classroom," Biling. Res. J., vol. 26, no. 2, pp. 461–483, 2002.
C. Chaudron, Second Language Classrooms. Research on Teaching and Learning. ERIC, 1988.
A. Doff, Teach English trainer's handbook: A training course for teachers, vol. 2. Cambridge university press, 1988.
M. Celce-Murcia, "Interaction and Communication in the ESOL Classroom," in A Forum Anthology, 1989, vol. 4, pp. 25–31.
M. H. Long, "Linguistic and conversational adjustments to non-native speakers," Stud. Second Lang. Acquis., vol. 5, no. 2, pp. 177–193, 1983.
M. H. Long and C. J. Sato, "Classroom foreigner talk discourse: Forms and functions of teachers' questions," Classr. oriented Res. Second Lang. Acquis., pp. 268–285, 1983.
R. Ellis, "The Interaction Hypothesis: A Critical Evaluation.," 1991.
S. Mathison and M. Freeman, "Constraining elementary teachers' work: Dilemmas and paradoxes created by state mandated testing," Educ. Policy Anal. Arch., vol. 11, p. 34, 2003.
V. M. Henzl, "Foreign talk in the classroom," Int. Rev. Appl. Linguist., vol. 17, no. 2, pp. 159–167, 1979.
K. Kelch, "Modified input as an aid to comprehension," Stud. Second Lang. Acquis., vol. 7, no. 1, pp. 81–90, 1985.
H. Xuewen, "Teacher talk in EFL in university classrooms." Dissertation submitted as a partial fulfillment for the degree of MA in …, 2006.
H. D. Brown and T. B. Principles, "An interactive approach to language pedagogy," NY Longman, vol. 430, 2001.
D. Nunan, "Methods in second language classroom-oriented research: A critical review," Stud. Second Lang. Acquis., vol. 13, no. 2, pp. 249–274, 1991.
H. H. Stern, E. E. Tarone, H. H. Stern, G. Yule, and H. Stern, Fundamental concepts of language teaching: Historical and interdisciplinary perspectives on applied linguistic research. Oxford university press, 1983.
O. Kareem, A. O. Aabdullateef, and S. S. Mukhtar, "The consequences of qualitative overstretch on employee intention to quit in Malaysia call center industry: An implication of customer relationship management," 2013.
S. Nasution, "Metode Penelitian Naturalistik Kualitatif (Bandung). Tarsito," Libr. fis. uny. ac. id/opac/index. php, 2003.
A. C. Klassen, J. Creswell, V. L. P. Clark, K. C. Smith, and H. I. Meissner, "Best practices in mixed methods for quality of life research," Qual. life Res., vol. 21, no. 3, pp. 377–380, 2012.
P. B. OATEY et al., "Confocal imaging of the subcellular distribution of phosphatidylinositol 3, 4, 5-trisphosphate in insulin-and PDGF-stimulated 3T3-L1 adipocytes," Biochem. J., vol. 344, no. 2, pp. 511–518, 1999.
M. B. Miles and A. M. Huberman, Qualitative data analysis: An expanded sourcebook. sage, 1994.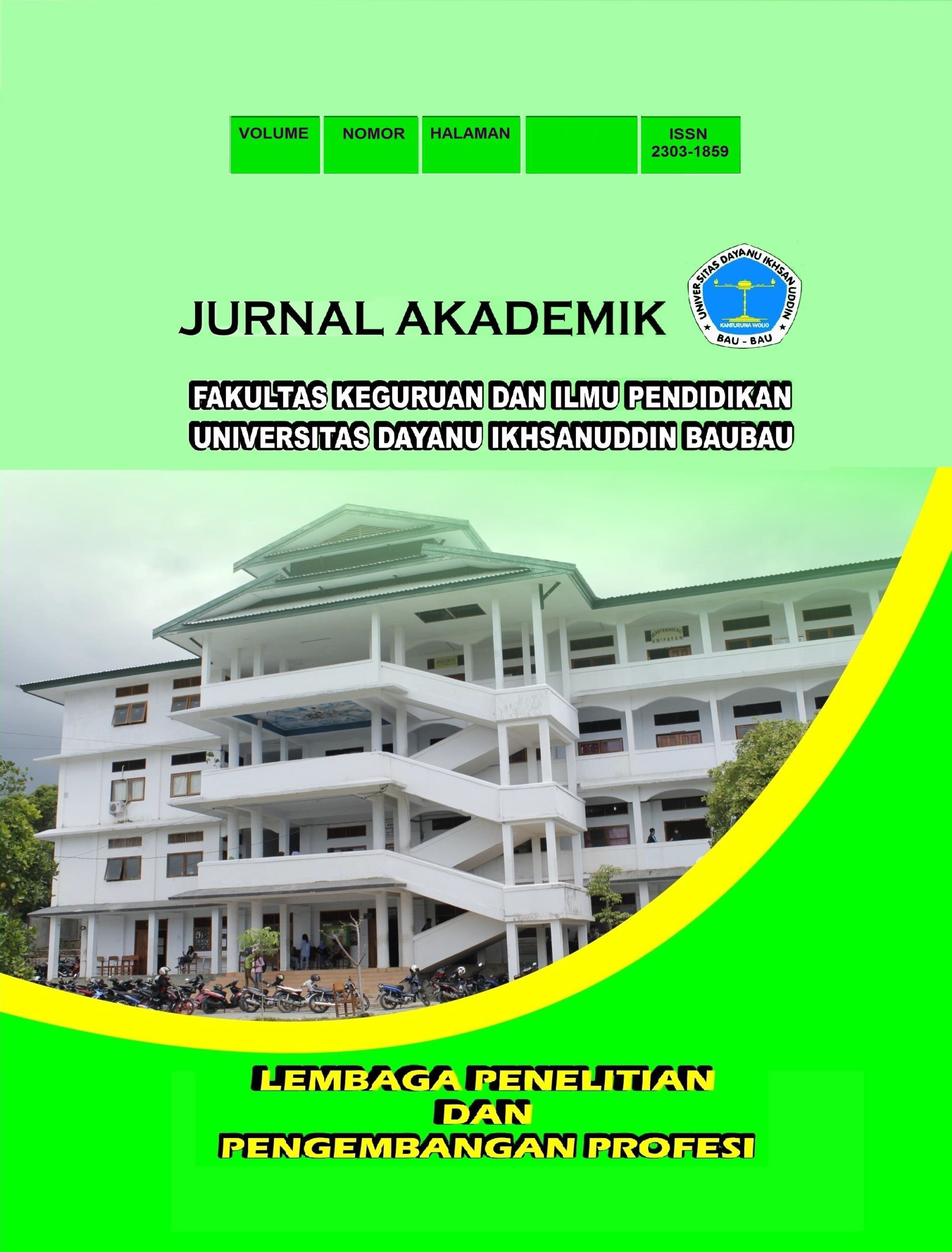 Downloads
License
Copyright (c) 2022 Jurnal Akademik FKIP Unidayan
This work is licensed under a Creative Commons Attribution-ShareAlike 4.0 International License.